This might be better called "The Baptist Girl's Best Wardrobe Pieces." Why? Because we have needs that are unique to the rest of our culture. Not many people have 6 or more dresses in their wardrobe that they wear regularly. A lot of wardrobes on the internet are focused more on what to wear to the office and mine is more focused on people who go to church three times a week, and a lot who wear skirts throughout the week as well.
But what else makes my perspective unique is that I have three daughters and I basically have had to buy an entire wardrobe for them each year and each season since they were born because until recently they grew out of everything each year. Now that they are in high school, I know what they need in a wardrobe and what they don't and I am going to share that with you.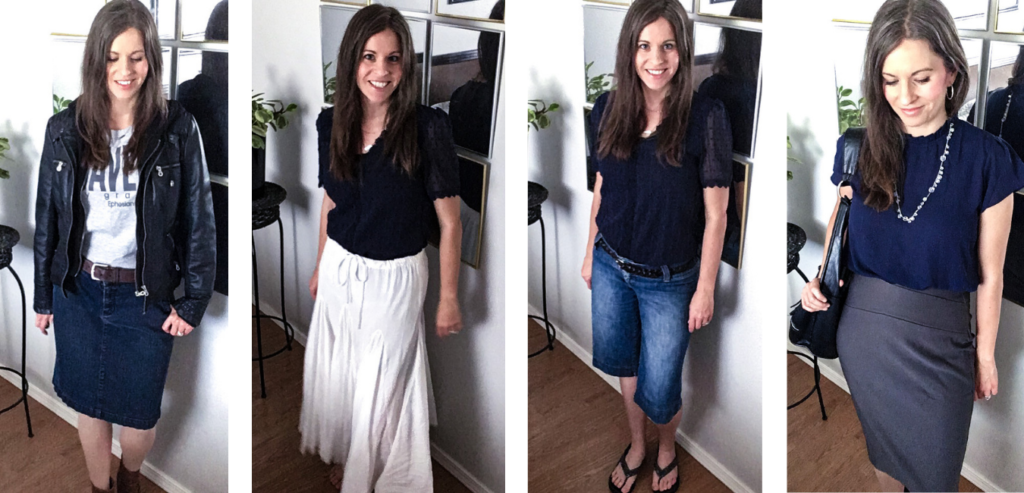 If I boil it down, you could make yourself a checklist of about 6 dresses, 6 skirts, 5 casual bottoms, 20 shirts (this includes summer and winter) and 5 coats / jackets. Here goes …
1. DRESSES
I personally try to buy a nice dress each Easter. It follows some guidelines, like:
It must be a shape that I know flatters the my natural figure.

It needs to have some kind of sleeves so that I don't have to find a cardigan to go over it.

I can't have one very similar to it already.

It's a fabric that doesn't cling, scratch or will pick easily.
But if it meets those qualifications, than here are the six basic dresses I like to have in our wardrobes.
2. SKIRTS
Where we live, a denim skirt can fill a lot of roles, but sometimes a girl gets tired of a basic denim skirt. Sometimes, you work in a more professional environment and some dressier skirts are more appropriate. Not only that, but when you mix your skirts and blouses in with your dresses, you end up with a rotation of over ten outfits for Sundays.
The skirts that I know are versatile and classic and we wear them regularly are:
3. CASUAL BOTTOMS
I know that casual clothes are a touchy subject, and I am not asking you to compromise on something on which you are fully persuaded. I am just going to acknowledge that there are some people who do not feel comfortable wearing pants, some only wear skirts and others feel fine with modest pants and knee length shorts. (If you want to know my perspective on this, you can watch my video on that here.) But, I am going to try to not exclude anyone in this post.
The casual clothes that I feel are versatile and will meet your everyday needs are:
Blue denim knee length shorts
Black denim knee length shorts
Blue wide leg jeans
Black wide leg jeans
Black leggings with knit skirt combo, or
Black joggers
4. TOPS
Tops are where personality really comes into play. I can say "personality tee" to my daughters and they come back with something completely different. A blouse usually is very different for each person and depends upon their body shape. So, with that in mind, I am just going to give you a brief idea of the types of tops that I love that go well in a basic wardrobe and then let opportunity, individual taste and God be your guide. Also, as a side note, my skin tone does best with cooler colors, but if you do well with warmer colors, I listed the alternative color in the first item so you get the idea.
PERSONALITY T SHIRTS
WINTER CASUAL
Navy (or fav color) long sleeve waffle, long sleeve t-shirt or sweatshirt

Black (or navy) personality (or brand) sweatshirt, hoodie or long sleeve t-shirt.

Gray (or tan) long sleeve waffle, long sleeve t-shirt or sweatshirt
SWEATERS
Bold long cardigan or statement sweater
Gray (or tan) long cardigan
White or cream perfect fit sweater
BLOUSES
5. COATS & JACKETS
Coats and jackets are an essential part of a wardrobe. In fact, there are some months where that is what people see you wear more than anything. Here are the classic styles of coats that I recommend for every female to build into her wardrobe.
FINAL THOUGHTS
There are still some extra items like camisoles, pjs, hats, swim wear, under armor for camping / snow activities and work out clothes, but those aren't necessary for every one. I really think that if you are able to build these 42 pieces into your wardrobe, you will find you have enough to meet most situations. If you have any favorite items, feel free to share in the comments.
Sincerely,
Melissa