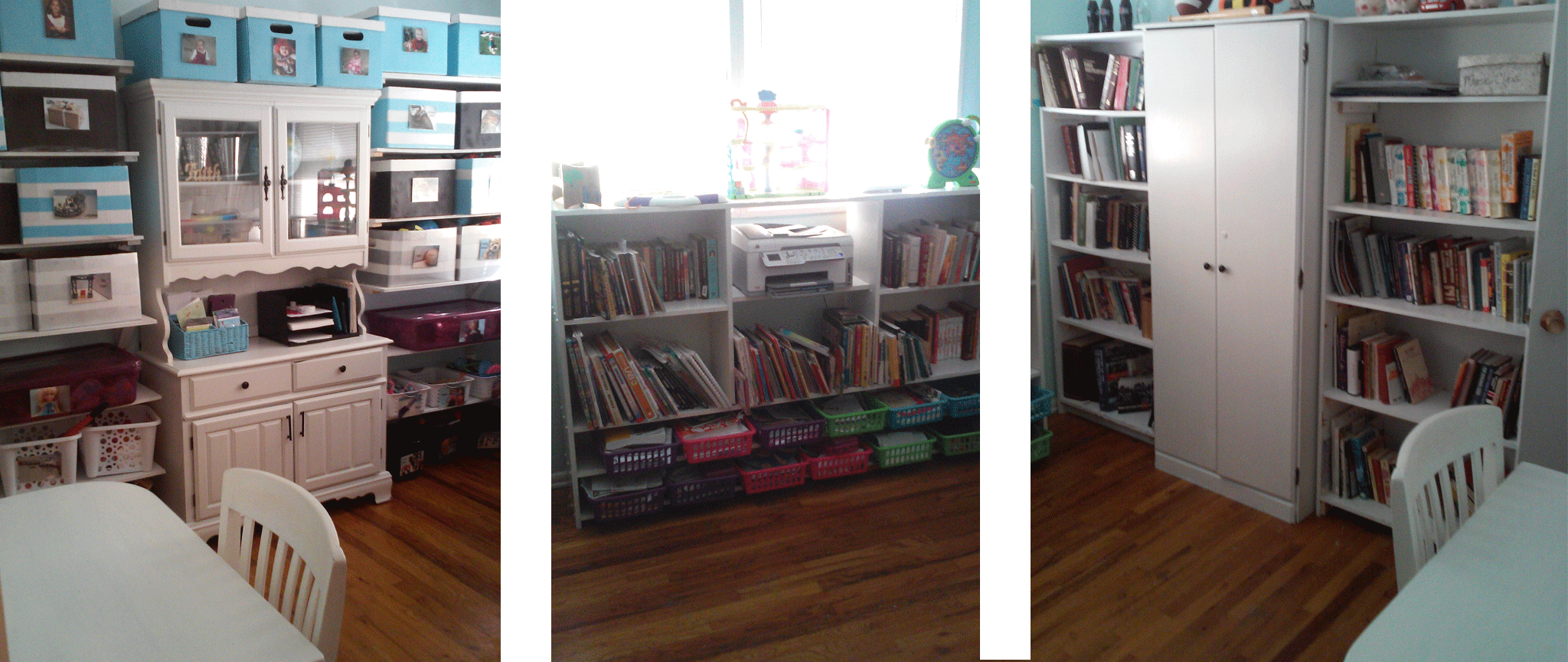 As of this date, Organizing the Office / Toy Room is my favorite organizational project in my home. It cost around $150 total. For a complete revamp, including storage boxes, that is exciting.
I really love organizing. I think it is hereditary. I am glad that I love organizing because completely outside of my own plans, but within God's will, our "starter home" may be our forever home. But I have totally embraced "living small" and finding peace with or without prosperity.
In fact, I often wonder if God smiles at us when He sees me embrace our un-intentional situation of a family of seven living in 1,300 square feet. I wonder if He made me a minimalist because He knew I would love the challenge. Who knows the mind of God?
Moving on. I wanted to share this specific organizational challenge, because I know a lot of people cannot afford OXO containers, the container store, or even IKEA storage solutions. Sure, I would love those to be a possibility and could drop $1,000 easily if they were an option. But they are not an option.
I call this my office, but really it is my Office / Toy / Craft / Homeschool / Wrapping Room. This is where I keep everything.
But what fun is an Organizing the Office / Toy Room post without some before pictures.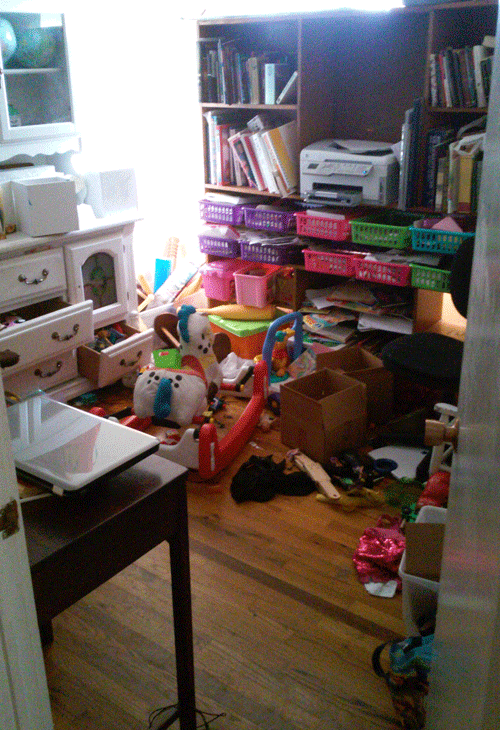 It's not that I didn't try to keep it organized. It was just a no-win situation. We found this abandoned gigantic bookshelf for our home school supplies. But it blocked out all the natural light in the room. It had a large hole in it that we masked with our printer. And there was the problem that the books always were falling out at the bottom.
What we decided to do was to chop off the bottom to allow the sunlight back in. We painted it white, and made the books easier to reach for everyone.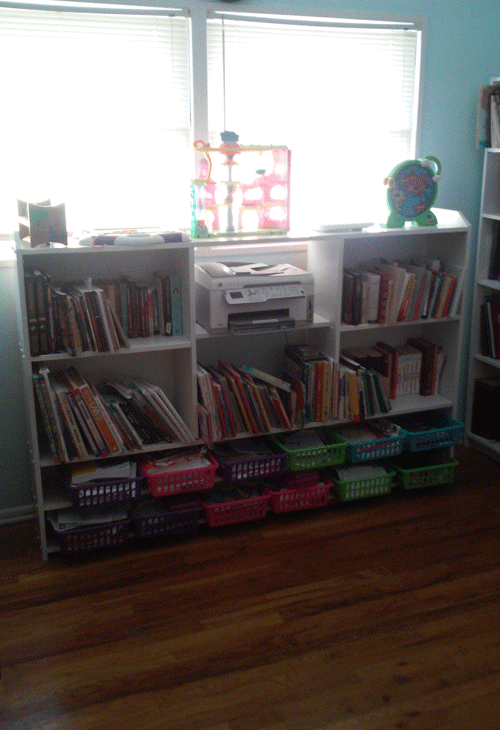 That wasn't our only section of bookshelves though. This one was just for the kids. My husband and I are book lovers, and we have accumulated quite a collection. After 11 years of marriage, my husband gave me one of the best gifts ever. He sat down with me and sorted through the books with me.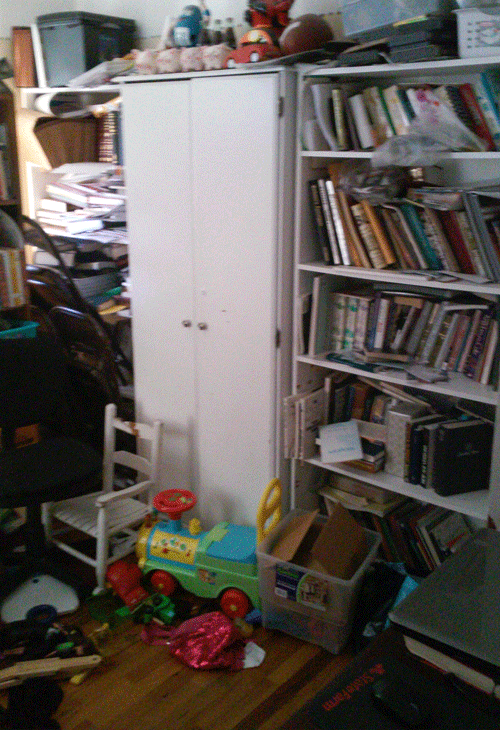 When I look at this picture, it reminds me of so many things.
If the only place you have for something is stuffed in a corner … don't keep it.

If the only room you have for a box is on the floor … purge it then re-use the box somewhere else.

If your toys are broken … don't keep them.

If you are piling boxes on top of books … it's time to take it all off the shelves and start all over.
This whole room is a result of collecting over the years without a clear purpose for anything. With children from 0 – 9 the "we might use this some day" philosophy can be a huge hindrance. We just needed to get rid of stuff.
And that is what we did.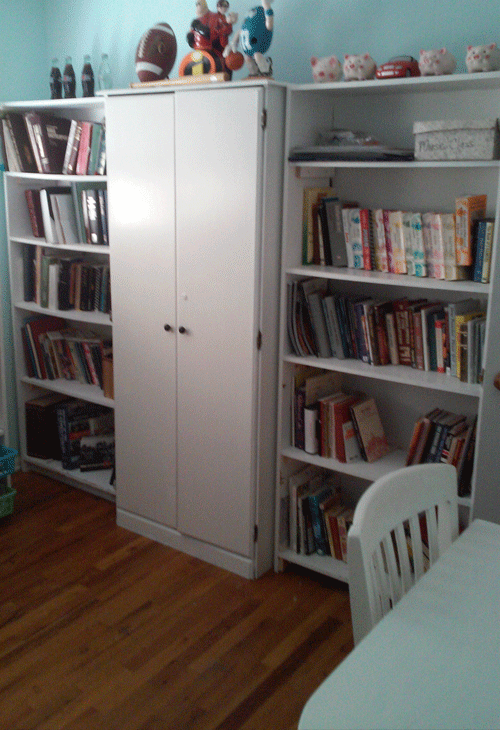 Then there was my great thrift store find: the dresser. I used the top of a hutch and mixed it with this bottom. It really was a great idea, except that we couldn't see inside any of the drawers of matching boxes that were in them. Consequently, we never used the hutch for storage, and the children always left the drawers open.
We ended up with toys everywhere. I had always dreamed of a shelving system, but clear boxes alone put me over my budget. I started a pinterest board of ideas to help me conquer this mess.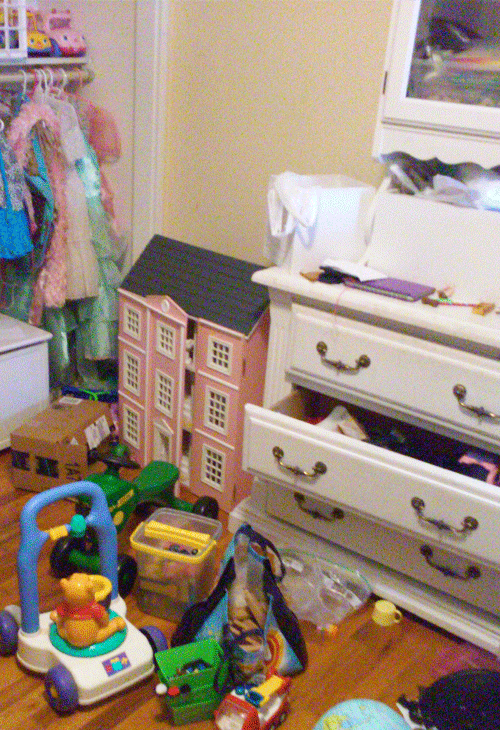 What I decided to different, was to use this hutch for my office supplies instead. I moved them off the top of the bookshelves, and stored them inside. That solved the open drawers problem. Then I moved moved all the paint and art supplies that I didn't want the baby to reach to the top, in pretty containers. Thank you Dollar Tree.
But the biggest change was our toy storage. I literally took every toy out of the room and started over. I figured out how many boxes I had room for and pretty much if we didn't have a box or shelf for the toy, we got rid of it.
The boxes themselves were the most exciting thing for me. Instead of spending $220 – 400 on boxes alone, I spent $30 on bankers boxes and spray painted them (for an additional $20). Some of our Dollar Tree purchases also included 6 buckets and 6 containers for toddler level toys. That comes to a total of around $75ish.
Then my kid's and I took pictures of our toys and used a free version of photoshop to add text. We had them printed at walmart.com and traded un-used office chairs to a friend for laminating supplies. We used velcro to keep them on the boxes.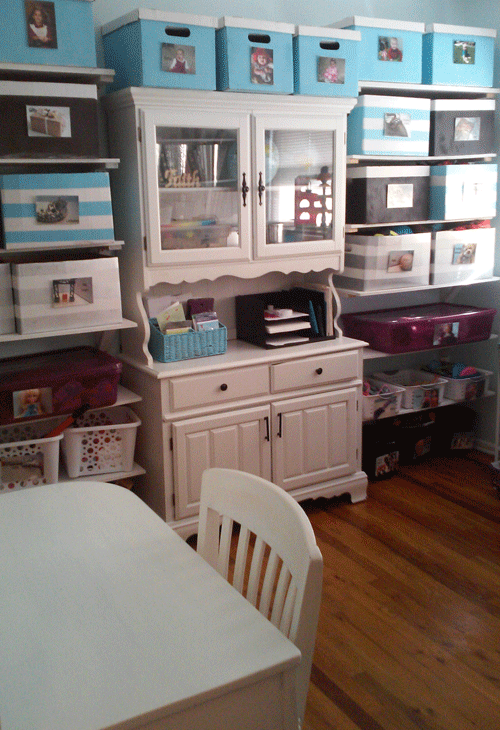 Our small desk was a gift from my mother-in-law, but we had no chair to fit it well. We went on craigslist and found a broken old wooden office chair for $25 and then disassembled the tiny office chair we had available. We screwed the base and the seat cushion onto our newly painted chair, and it is beautiful.
If you are keeping count, the cost is around $115 at this point.
Room, furniture, box paint – $60

Boxes – $30

Buckets – $12

Laminated pictures & velcro – $10
There was also the shelving, which we pretty much copied from this open shelving idea on pinterest. We used inexpensive particle board and painted it.
Then as time progressed I realized that I needed a place for all of my wrapping supplies. Sadly, after all that work, I ended up temporarily tossing it on top of our keepsake boxes on the very top of our new shelving. Sigh.
I just could not afford the $130 elfa system from the container store. So, my husband made me a tiny shelf, I spray painted a curtain rod & hook thingy from the Dollar Tree and viola; my very own gift station. For a total of $14 (includes the vinyl price). I tucked it behind my door.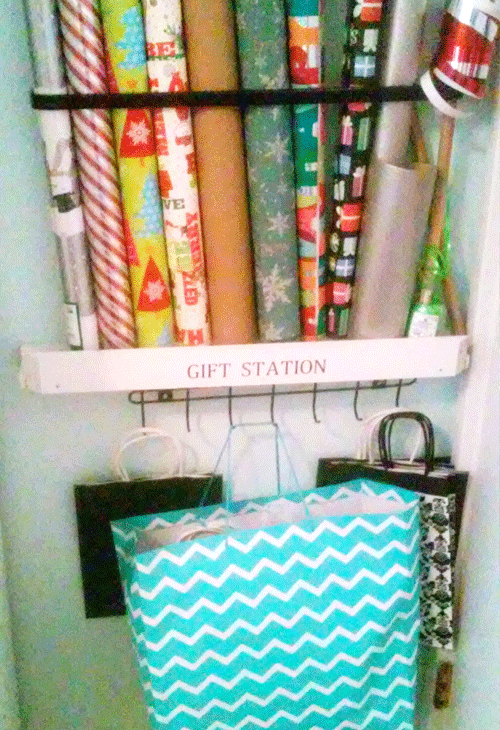 So there you have it. A year later, and I am still in love with my room. While Organizing the Office / Toy Room, the only thing I would have changed would to have clear coated the desk after I painted it. I think I will do that this year. It really takes a lot of wear and tear.
I hope you have found plenty of inspiration to live small, be content, and be organized.