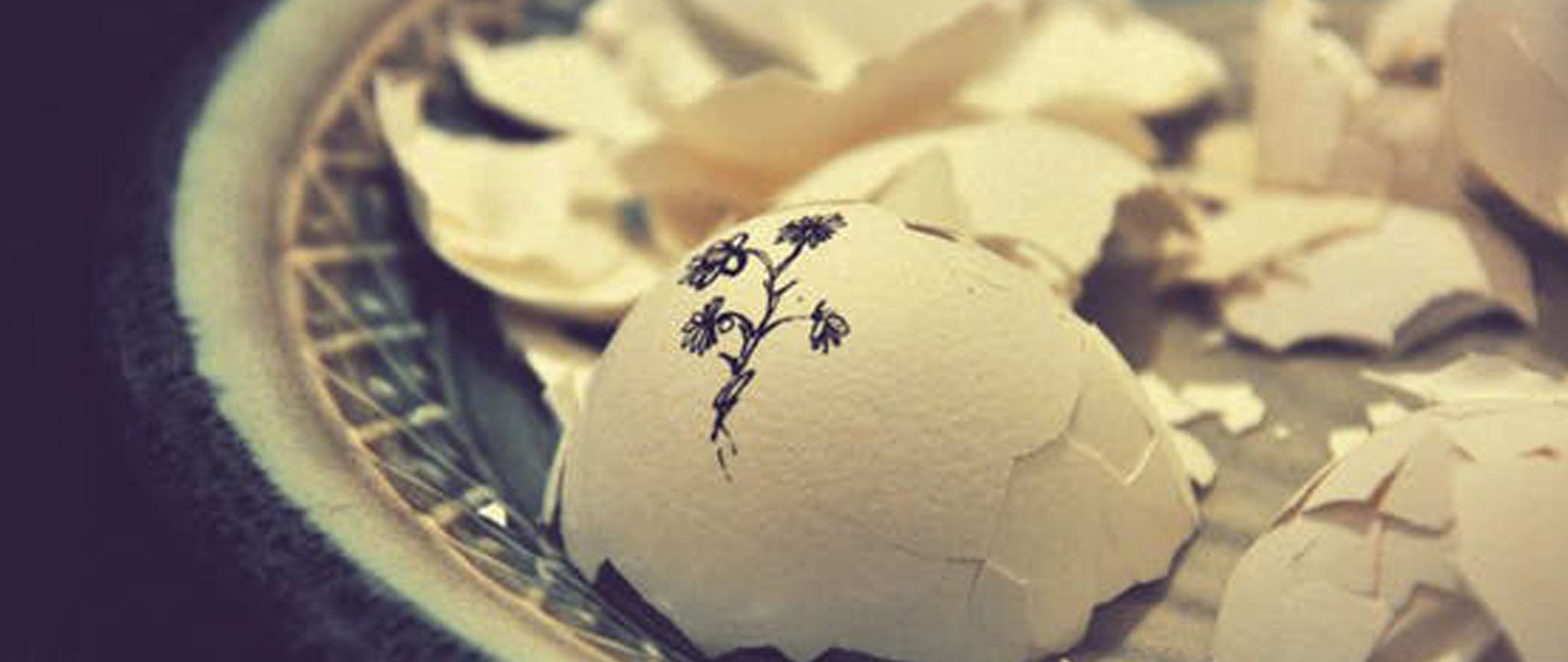 A pastor was recently talking about how he was a car guy. He mentioned that he has stopped at many auto shows to see how people have carefully restored their classics. Most have taken each piece and replaced them entirely until the entire car was like new. He went on to mention how one such car had been neglected and abandoned in a field and even had a tree growing out of the middle of it. It was in ruins.
The picture of that car just stuck with me. I know of people just like that car. They feel forgotten, unimportant, not even a shadow of what they felt was their purpose in life.
But then I thought of how they were restored, and that too reminded me of each of us.
THE POTTER KNOWS THE CLAY
(How To Start Over From a Broken Life)

I don't think that God is done with any of His children. As long as you have breath to breathe, He has a purpose for your life. He hasn't given up hope and neither should you.
As I was praying today, I asked God what encouragement I should give to someone who feels they are like that broken down car in the field, and I am going to share with you that thought.
GOD MADE ANOTHER VESSEL, NOT THE SAME ONE
(How To Start Over From a Broken Life)
I am reminded of the Potter in Jeremiah 18:4:
And the vessel that he made of clay was marred in the hand of the potter: so he made it again another vessel, as seemed good to the potter to make it.
Sometimes our life has been so marred that God creates a different path for us than He had first intended. This is why we often speak of the "good, acceptable and perfect will of God." When you look at this verse, you see that God made it again "another vessel." The second time around was different than the first.
But before one can be made new, they must first admit that they were marred and that leads me to the next point.
TAKE OWNERSHIP OF ALL THAT YOU DID TO GET YOURSELF IN YOUR POSITION
(How To Start Over From a Broken Life)
A lot of times it is way easier to blame other people for the wrong they have done rather than recognizing that we too are to blame. For every action given to us, there is a way to deal with it that will please the Lord. I talk a lot about this in my article Act. Don't React. Yet, if we live our lives blaming others rather than figuring out where we messed up and fixing it, or if we are the hero of our own story and everyone else the villain, we will find ourselves much like the "survivor" in my article "Are You a Thriver or Survivor?" If you aren't sure which one you are, go ahead and take that quick quiz.
Regardless, you must do more than just say, "Yeah! I made some mistakes too." You need to identify them and then begin to correct your own actions and habits that got you where you are.
APOLOGIZE
(How To Start Over From a Broken Life)
Once you begin to realize your failures, you will probably also begin to see the people you have hurt or situations where you have been in the wrong and part of becoming another vessel is to start reconciling relationships. You need to apologize to the people you have disappointed and hurt. The more specific you are, the better the apology will be. I am talking about real, un-defensive humility. There is no need to justify yourself when you are taking complete ownership for your actions.
Just apologize.
SEEK RECONCILIATION
(How To Start Over From a Broken Life)
Now this might seem like the same thing as apologizing, but in this instance I am talking about the flip side of things. Often we say, "Well, when they apologize to me, I will forgive them." That's not biblical at all.
In fact twice, God says that if someone hurts or offends us than we are to go to them.
Matthew 18:15, Moreover if thy brother shall trespass against thee, go and tell him his fault between thee and him alone: if he shall hear thee, thou hast gained thy brother.

Luke 17:3 &4, "Take heed to yourselves: If thy brother trespass against thee, rebuke him; and if he repent, forgive him. And if he trespass against thee seven times in a day, and seven times in a day turn again to thee, saying, I repent; thou shalt forgive him.
A wise man once said, "Pride is masked by principle and righteous indignation more than any other thing in the lives of Christians."
We are to seek reconciliation and forgiveness. I am telling you, a Christian cannot move forward without first doing this.
GET IN CHURCH. GET INVOLVED.
(How To Start Over From a Broken Life)
I know that I am teaching some very basics here, but you would be surprised how many people trip up on this. They want God to lead them and bless them and to create them into a vessel of honor, but are holding out on God.
Church is the pillar and ground of the truth (1 Tim. 3:15) and if you aren't going to church regularly, chances are you are under some self deception that will hinder your growth. I can say that pretty surely, as I know that God commands us (especially as the day approacheth) to not forsake the assembling of ourselves together. (Heb. 10:25) Trust and obey. Get in church.
Then you need to get involved in church, because it is pretty easy to skip out when you don't know people or have a way where you can "give back." This is especially true if you have been a Christian for a while and know a lot of the basics. My pastor said just this past week that there comes a point when those who know the milk and meat of the word need to start thinking of other people besides themselves or they whither on the vine.
Church needs to be more about worshiping and obeying God and serving others than what "you get out of it." Jesus and Others and You, what a wonderful way to spell J.O.Y.
COMMIT TO THE LORD
(How To Start Over From a Broken Life)
I am almost done, but everything I am telling you here is straight from the Bible. Before God can make out of you another vessel, you need to be moldable. Imagine if you will that car in the field and the owner is trying to work on the engine, but it just won't budge. How will he ever get it in working order? He will if he can get the thing to move for him.
Are you making excuses. Are you holding out? Do you have 15 reasons why you just can't?
I tell my children a lot that there are two type of people in the world; problem solvers and problem finders.
The thing is that you probably do have reasons that things are harder for you. You are broken down and in shambles. Where is your faith my friend? Trust and obey for there is no other way to be happy in Jesus!
Rather than looking at reasons you can't, look at what God wants and make a way. Be creative. Get outside of the box. It was the box that got you where you are in the first place. Change your ways and start giving your life to God.
LEARN THE SKILLS YOU NEED TO KEEP FROM REPEATING YOUR MISTAKES
(How To Start Over From a Broken Life)
This is the last point. It goes back to the first one where you need to identify your faults and take ownership. But there is no point in trying to fix yourself if you are going to go to un-wise and worldy philosophers to try and better yourself. In fact, I wouldn't even recommend a Christian psychologist or psychiatrist. I wouldn't recommend successful self-help authors.
First of all I would recommend that you start reading your Bible every day and especially focus on Proverbs and James. They are so full of wisdom. Write down any questions that come up and start taking them to the Lord in prayer.
Next, I would recommend someone who is unashamedly biblical in their stance. Now, I am not talking about someone who hasn't learned how to speak the truth in love. I am talking about a gracious, merciful pastor or biblical counselor (not a novice). And be careful about who you choose. Look at the pastor or counselor's family. Look at their history at their job. What is their track record? Do they hop from here to there to where you can never examine their long-term fruit? Find someone who is succeeding in the areas where you are weak and seek wise counsel.
But you must be humble and listen and ask. Which should be no problem if you have worked your way from point one all the way to the end here.
LET ME KNOW HOW I CAN HELP YOU.
Is there a question that you have? Is there an area that you have been wondering about? Please send me a message to let me know your thoughts, concerns or a topic you wish I would address. I genuinely want to help.
Have a great day.
Melissa